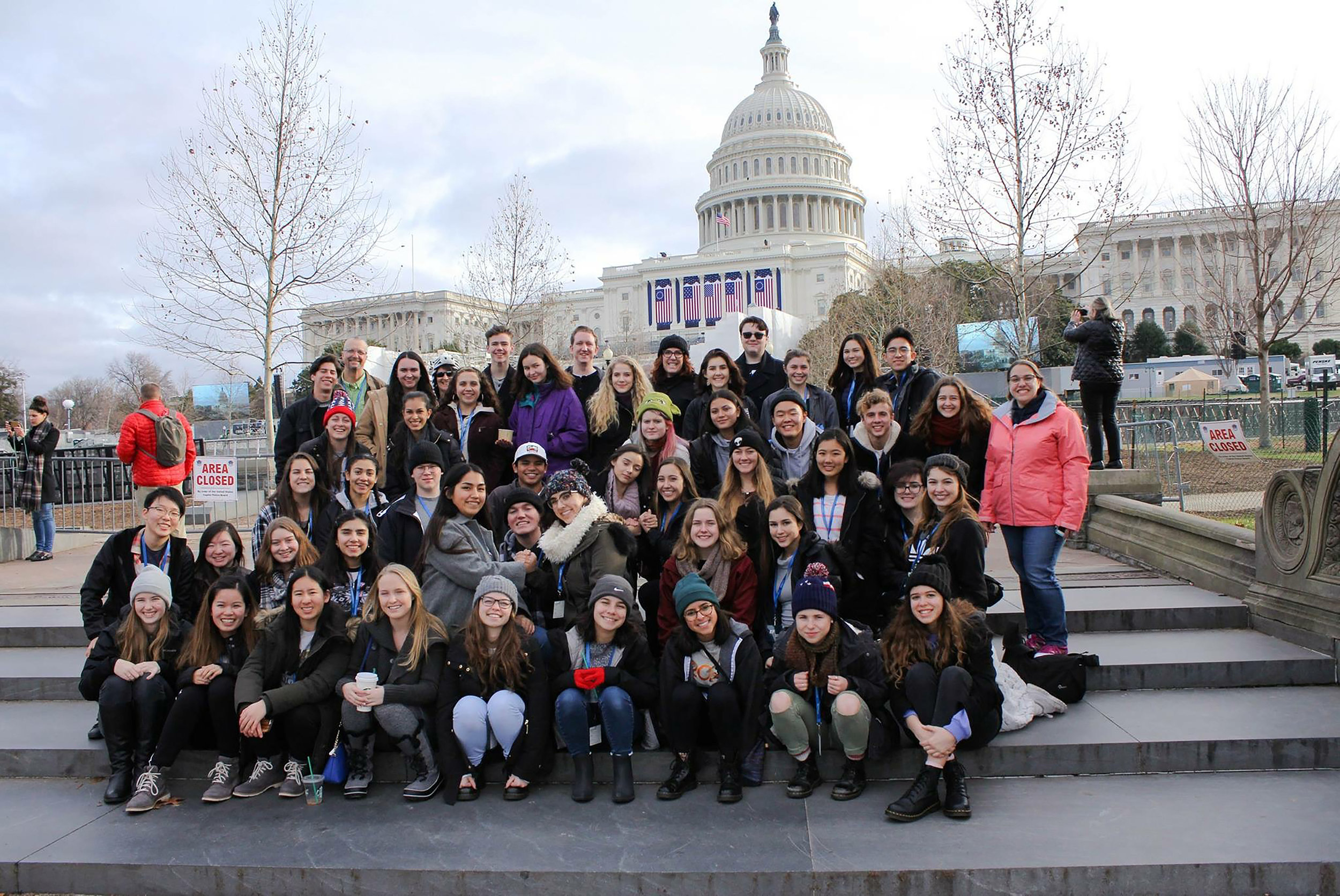 Montage performs one of the closing numbers at Gala 2017.
Photo courtesy of Cheryl Walsh (alt-senior.com)
A Night of Pure Imagination
Justin JohnsoN & DOMINIC ROTH
photographer & STAFF WRITER
I never meant to cause you any sorrow. I never meant to cause you any pain. I only wanted to see you laughing. I only wanted to see you laughing in the purple rain.
"The energy of the people around me and the vibration of the music was electrifying," said senior Maya Michaelian (IA), a member of Montage.
Saturday, March 25th was a night of pure imagination at OCSA's 30th anniversary Gala. OCSA students paid homage to famous artists who passed away in 2016 such as Gene Wilder and Prince. It is one of the most important nights of the year for OCSA. How impressed many of the donors are can have a direct impact on the lives of the performers and their peers; with that comes an incredible amount of responsibility and stress. Michaelian went on to describe the feeling, "The thing about Gala is that the stakes are so high because you have one shot, one night to do your best and leave it all out there on the stage... One might think that would be intimidating however, I have never felt more at ease and in fact exhilarated during a performance then when I was on the Gala stage."
The specialness and responsibility of the night is something that is extremely important to many of the students. Senior Nathan Levy (MT) explained, "I think Gala is one of the only times in the school year where everyone who really cares and supports OCSA gets the opportunity to have a fun-filled night, full of performances, great food, and obviously raise tons of money for the school." And a lot of money it was indeed! The fundraiser was a huge success, raising over $1.4 million from its more than 600 guests, including Allianz executive Mohamed El-Erian who matched up to $250,000 in donations.
Producing a show as important as Gala requires an overwhelming amount of effort. The schedule for the day of and days preceding the performance included long hours and restless nights for the crew and the cast, but it all paid off. Junior Shelby Okasawara (IM) described her experience, "I was called onstage a lot, and I had to be there a total of 16 hours. I was only given two 20 minute breaks and one 90 minute break, which I also had to do hair and makeup from the facilities they provided. So I wasn't given much time to myself, or to unwind, or just to relax my lips and not overplay, because I was called for all three acts and we had to constantly rehearse. So that was a bit taxing, but overall it was a great experience and I would do it again… I slept 14 hours the next day."
Joaquin Sosa, FTV senior, worked as a steadycam assistant throughout the event. "It just felt magical, actually seeing the show," he explained. "30 years, 30 years. That still rings in my head. It was just a really memorable Gala."
The vocal ensemble elective class performs "Deep River" arranged by Rene Clausen.
Photo courtesy of Cheryl Walsh (alt-senior.com)
You Don't Need Milk to Raise Your Voice
Emma Lu & Emma Ong
STAFF WRITERs
Got Milk? A heated debate amongst singers, consuming dairy is often viewed as a precursor to a poor vocal performance, with numerous vocalists such as junior Adin Boyer (CV) firmly declaring that the, "myth is true, though it's different for everyone, drinking milk really jacks up your voice--big time." Unperturbed by the effects of dairy, the Classical Voice conservatory's melodic singing carried through Symphony Hall on March 9, 2017, evidence that all stuck to their regimented pre-show ritual of, as senior Noah Schartz (CV) said, "hot tea, lemonade, all the stuff to have right before a show."
This preparation truly paid off during OCSA's annual spring choral concert, "The Wandering Soul," which featured captivating performances by the CV's four choirs (Chamber Singers, Concert Choir, Women's Chorus, and Men's Chorus), the Vocal Ensemble elective class, Max Capacity (CV's barbershop quartet), and a new addition, the Samueli Academy Choir.
"Samueli is much like OCSA except they focus more on technology such as design and engineering," said Gabriel Lawson, who accompanied and conducted various pieces throughout the evening. "They started a brand new choir this year … it has been such a pleasure to work with [them] and we are hoping to make this a relationship that will continue far into the future."
When asked which was her favorite song to perform, junior Lauren Villegas (CV) named a classical piece, "Sehnsucht," by Johannes Brahms: "[Its name] is the German word for 'yearning', and it's gorgeous. I really enjoy singing it because it makes me feel the emotion behind the song."
Boyer had a few favorites, including "My Soul's Been Anchored in the Lord," "The spiritual we did that was acapella, because I love spirituals and I love the spirit it brings, and it's just so much fun to sing."
Each artist has their own taste for what form of vocal performance they favor: some opt for the friendly support of ensemble singing, whereas others prefer the spotlight that comes from a solo act. Chiming in with her opinion on the topic, Villegas said, "They both have great things, but I prefer the choral ones because I get super nervous, so it's reassuring to have everyone around you … it's really nice to have people singing around you versus the solo ones where you're all by yourself." Despite the familiarity of performing in an ensemble, solo acts possess great perks, as well, as Boyer said, "For me personally, I would probably prefer solo just because I have more freedom to choose the piece that I want to sing and it resonates with me more."
As the late, great Clifton Fadiman once said, cheese is milk's leap toward immortality. With "The Wandering Soul," these talented singers step toward immortality in their own way, sans milk.
Need Advice? Send your questions into "Ask Evelyn" by emailing ocsaevolution@gmail.com!
Dear Evelyn,

My mom just got back in the dating game. I'm excited for her; she found a great guy. However, he is a firm believer in Ancient Aliens. You know, [that] the aliens built the pyramids, Stonehenge, etc. He thinks aliens have already found us but we just don't know it yet. I respect everyone's opinion, but he loves to push my buttons and start fights with me about it. How do I get him to stop, or convince him that the pyramids were built by actual human people?

Thanks,
Mom Has a Martian Boyfriend
Dear M.H.A.M.B.,
From where I sit, your mom's boyfriend's views on aliens are rather harmless. Take your own advice and respect his opinion. Maybe it will help you to think that the ancient structures you refer to are considered a mystery, and no one can know for certain where they came from. Who knows? The Martian Boyfriend might even be onto something.
That said, even if he is a great guy, he is an adult and shouldn't use his beliefs as a way to purposely bother you or "start fights." The next time he brings it up, be polite, smile and casually change the subject.
Sincerely,
Evelyn
Dear Evelyn,

I've been dating my boyfriend for nine months now. However, I suspect that he's gay. Actually, I know that he's gay, because he told me so. How do I cope? I'm still in denial.
From,
Should I Stay With the Gay?
Dear Stay With the Gay?,
Considering where we go to school, I know that other girls can relate to your problem. After nine months, you should know whether or not you're getting everything you'd like to from this relationship. What is keeping you two together now? Do you feel like his sexual orientation leaves something to be desired as your boyfriend? Regardless of the good qualities he may have and however much you may care about him, these are questions that you should answer for yourself.
If you want to stay with him, then you'll have to accept that your boyfriend is gay, and things aren't likely to change beyond how they are now. However, if you're not satisfied with your relationship to the point that you're "in denial," then my advice is to end it and maybe take a break from the dating scene (possibly until after you graduate).
Sincerely,
Evelyn
Like a thief in the night. Two students defaced the senior wall.
Illustration by Emma Lu
Culprits Caught in Senior Wall Vandalism
Lily williams
editor-in-Chief
When seniors returned to campus on March 20, they were surprised to see a new addition to the senior wall: paint dripped over the top, covering some of the handprints they had added weeks prior. The wall, which stands on the southeast side of 10th Street, was decorated with senior handprints in blue and pink in order to commemorate the graduating class.
Director of Facilities and Supervision Michael Ciecek confirmed "the investigation has been concluded. OCSA has identified the students that were responsible, and appropriate actions are being taken to repair the damages."
"At first, I thought it was … the seniors messing around," said senior Chanelle Romero (IM). "I thought they were doing it to be artistic."
OCSA administration did not see the paint as a conventional artistic choice, but an act of vandalism. The wall was painted with five colors: pool blue, cobalt blue, light pink, bright red and leaf green - all from the Apple Barrel brand. The empty paint jars were left in a trash can adjacent to the wall.
Ciecek said the vandalism occurred on the night of Saturday March 18 and was originally reported to him by Stacy Leimkuhler.
"While it was done artistically, it's not in line with the idea, the spirit, and the camaraderie of the senior wall," said Ciecek.
By Wednesday, the wall had been painted white again.
"The decision was made to paint over it, and still give [seniors] the opportunity to paint over it," said Ciecek. Even the non-vandalized portion, emblazoned with "2017," was painted to discourage further vandalism.
Seniors and Student Body Co-Presidents Cassandra Hsiao and Brooke Lee (CW), who organized the senior wall, released the following statement:
"As many of you may have noticed, the senior wall was painted over this week because it had been defaced. These events deeply saddened both of us, as it had taken us since mid-October to get that project approved and executed. Possible follow-up plans are being discussed. Thank you for your patience and we are sorry this has happened."
"It does not add to our campus when someone does this," said Ciecek.
San Gabriel Sister School is Growing Up
LILY WILLIAMS
EDITOR-IN-CHIEF
OCSA's first sister school, the California School of the Arts - San Gabriel Valley (CSArts-SGV) sent out its first round of 280 acceptance letters for its inaugural school year beginning in the fall. CSArts-SGV, located in Duarte at the current Northview Intermediate School, is prepared to enroll 525 ninth to 11th grade students in nine conservatories.
Dr. William Wallace, CSArts-SGV's principal and OCSA's former dean of facilities and supervision, said although he did not know how many students had auditioned, acceptance to the new school will not be as competitive.
"Because it's a start-up school, we don't have the issue that OCSA has where you have 4,000 kids auditioning for 200 spots," said Wallace.
CSArts-SGV is currently enrolling students on a rolling admissions basis. Interviews and auditions will continue through April, with batches of acceptance letters to accompany them. They expect to reach full enrollment by mid-May. Interviews for academic teachers began in late March.
"In terms of the classes being offered, I don't think it's going to look [very] different," Wallace said. "We are going to make some changes to the way that we look to create student achievement. We are going to be using what's known as a standards-based grading model, where students are graded more on their competencies or mastery of standards, and less of a point-based model."
Wallace said in the future, this system may be applied at OCSA.
"Public education in general is moving in that way," said Wallace. "Research shows that grading kids based on their level of competency in relation of skills and standards is probably better than giving points for stuff."
CSArts-SGV will provide the same conservatory programs as OCSA, with the exception of Culinary Arts, Digital Media, Film and Television and International Dance.
In conjunction with the new arts high school, CSArts-SGV is creating elementary school arts programs with the Duarte School District. Wallace hopes these programs will serve as a feeder into the new school.
"I think it's benefitting both institutions quite well. [It's] a much different working relationship than we have with the Santa Ana Unified School District," said Wallace, who says the SAUSD "hold[s] us as arm's length and let[s] us do what we want."
Construction and relandscaping will begin when Northview Intermediate School shuts down in June. Cosmetic work will be done to "make it look more like an OCSA-type school," said Wallace. In five to seven years, a building similar to the DMS will hopefully be added to the campus.
Said Wallace, "I will be much more relaxed when I feel that we are at that 525-student threshold."
The Marine Corps Jazz Orchestra
Photo courtesy of Leslie Mendez
Feel the Music in Your Corps
HANNAH BADGER
STAFF WRITER
Fun, flair and pulse-pounding jazz music aren't often associated with the military, but some special U.S. troops delivered more than enough of them March 2 in Symphony Hall. The U.S. Marine Corps All Star Jazz Band, hosted by the Instrumental Music Conservatory, performed as part of OCSA's Master Artist Series.
"The United States Marine Corps All Star Jazz Band is made up of the finest jazz musicians in the country," IM Conservatory Director Daniel St. Marseille stated. "When the opportunity to host them at OCSA came up, it was an easy decision because of the chance for our students to work with the members of an all-star group." St. Marseille also hoped that the students and the school would "realize the breadth of influence of America's indigenous art form: jazz."
The day of the concert, the military band worked with IM students in a master class, helping prepare them to open the performance that evening. The IM Ambassador Jazz Orchestra expertly played several lively jazz songs, including "Tenor Madness" by Sonny Rollins, arranged by Matt Harris. Fortunately, the show didn't fizzle out after intermission; if the students' performance was an effervescent light show, then the Corps' playing was an explosive Fourth of July celebration.
The Marine Corps Jazz Orchestra performed with passion and (appopriately) military precision. Any spectator might have thought that the band had rehearsed for months before going out on tour, but in reality, they had had only one rehearsal together the week before.
"The selection process is that these guys submit recordings each year, and we go through all the recordings of anybody who submits to be part of the band," Master Sgt. Tim Otis, the band's tour manager, said. "Some of these guys, they're repeat offenders. They do it over and over, because they continue to be the best at their craft, and sometimes, we get new guys in and out. Actually, a good example of that is we've got four new players in the band this year."
In addition to musical talent, the concert also delivered plenty of laughs, courtesy of Gunnery Sgt. Ken Ebo. Ebo, the lead trombone player, also acted as master of ceremonies throughout the evening. Ebo was warm, friendly and humorous the entire time, delivering informative introductions and light-hearted jokes between pieces. At one point, he told the audience members if they were enjoying the show to remember the band as the Marine Corps Jazz Orchestra, but "[i]f you're not happy, we're the U.S. Navy."
The band's repertoire for the night included many feel-good jazz tunes, including "My Baby Just Cares for Me" by Count Basie, where Ebo got to show off his singing skills. In addition to the high-spirited selections, the band also performed several more emotional pieces.
One of the more heartfelt moments of the evening was when Ebo introduced "A Farmer's Life," a song he had composed himself in memory of fallen comrade Chief Warrant Officer 4 Robert Farmer. Another notably touching moment came near the end of the performance, when the band played "Time After Time" with lyrics by Sammy Cahn and music by Jule Styne, in honor of all their military families. Ebo, once again acting as vocal soloist, introduced the piece by thanking his wife for all she had done for their family.
After the performance, some of the audience members lined up to shake hands with the musicians and thank them for the evening. The concert won't be the last OCSA collaboration with a military band; the IM Wind and Jazz Studies students will travel to Washington D.C. in June to work with the U.S. Navy Band Commodores, the U.S. Army Field Band and the U.S. Air Force Band.
Although IM will be traveling across the country to work with these military bands, Ebo was sure to tell the evening's audience, "Remember: The U.S. Marine Corps came to you!"
We Won't Hide Our Pride
Ameilia Newett
FEATURES EDITOR
For a large amount of OCSA students, Pride Day is a chance to take cute pictures with friends, face paint and dance to senior Erika Kroll's (FTV) incredible playlist. However, for many, Pride is a day of preparation, reflection and celebration. "I didn't play music for straight people," Kroll says. "Great, you're an ally. But [Pride] isn't for you. It's for everybody who's been marginalized."
Sophomore Euni Lee (CW), co-president of OCSA's Gender and Sexuality Alliance and organizer of this year's Pride Day, reminds us that "Pride is important for everyone. I think it's important to experience all that love and beauty that connects us! But [as] someone who's part of the community and saw how devastated we were in our new political era, I think this year's Pride was kind of my love letter to our community like, 'We're still here and we're not planning on going anywhere.'"
The nation's first Pride Parade was in June of 1970, and commemorated the one-year anniversary of the Stonewall Riots, a key turning point in LGBTQ+ history. This historical moment is still vital to the Pride movement, as seen in OCSA students such as junior Natalie Pendergraft (MT) who shared that to her, "pride means what it originally stood for in 1967 when it was first used: 'Personal Rights In Defense and Education.'"
"One of the purposes of pride is to educate allies to be good allies," Pendergraft said. "They're reminded that our struggle is far from over. Allies are the key to achieving equal rights, no question about it. Educating them is one of the most valuable things to be done for our future as American citizens."
It is important for allies, members in the community, and those outside to remember that coming out and being an active part of the LGBTQ+ community is an individual experience for all and is not one to be forced. Lee suggests that allies or anyone supporting someone discovering their own identity "support [them], show [them] your love, and [they] will give it back in tenfold."
As for those tackling their journey on their own, the GSA meets on Mondays at lunch in T301 and, as suggested by senior Matthew Dalton (FTV), "start with friends you know will be very supportive of your fears and concerns with coming out. Live your life like you are out and if someone is so curious enough to ask you if you're gay, bi, trans, etc. evaluate if you feel ready enough to tell them."
For additional support, contact GSA board members, adults you feel close to, or your local LGBT center.
Mr. Kolb's big smile.
Photo by Crystal Uribe
Teacher of the Month: Jim Kolb
crystal uribe
photo editor
You can find him walking through the hallways with a big smile on his face.
Jim Kolb has been the director of Commerical Dance since 1998 and has been teaching at OCSA since 1988. Next year will mark his 30th anniversary of working at OCSA. Kolb teaches professional development to CMD juniors and seniors, which helps dancers learn how to dance in the industry, which he knows a lot about due to his dance career starting at the age of 10.
What was the best job you got as a dancer?
"My most memorable job was on the Academy Awards three different years, and my favorite one was when I did a tap number and actually read the rules from "Price Waterhouse" which is the agency that puts together the voting results and we were actually able to recite as we tap danced the rules of how they did that and there were only eight of us dancers (four guys and four girls). That was my most memorable job because it was right in front of the curtain and we were close to the audience with all the stars right there."
Has Commercial Dance always collaborated with other conservatories?
"As far as collaborating with different conservatories we try to as much as we possibly can but it's on a limited basis because of schedueling conflicts, I love it when the students in student choreography collaborate with their friends … but I would like to do much more."
Who are your most memorable students?
"All of my students are memorable to me, however the standouts are of cource the ones that have succeeded and made it a career as a dancer like Mark Meismer, Jon Bond, Bobby Amamizu, those are just a few of the standouts that have been so successful and I've been very proud of that. I love it when the alumni come back to visit because I like to hear what they've been up to."
What is your favorite/funniest memory of CMD?
"Probably one of the funniest moments was when I was teaching tap at Los Alamitos. That time we were teaching tap in the cafeteria and in the electronics classroom and we just had marley [performance flooring] on the wall and anyway I was tap dancing and I totally fell down and hit the floor really bad and the students just laughed so that was pretty funny."
Do you enjoy the auditioning process?
"I totally enjoy the auditoning process, this year however has been a little crazy because we're also seeing dancers that would like to be considered for the new Duarte campus so the auditions have been bigger than normal so its been a little harder this year but I totally enjoy the process. I love seeing the creativity that the students do at the end of the audition with their 30 second solos."
Photo courtesy of Brandon Gonzalez
No Breaking While Brandon Gonzalez is Skating
Nina Cereno
Managing editor
Rolling in with an impressive win, senior Brandon Gonzales (ACT) broke the Guinness World Record for the longest stationary skateboard manual, exceeding the original record of 19 minutes (and 30 seconds) with two hours and 55 minutes.
The "skateboard manual" is a skateboarding trick in which a person must balance on their back wheels with their back foot while their front foot and the leading part of the board is popped up in the air. The goal of most boarders is to stabilize themselves on the back wheels for as long as they can without having the front foot touch the ground, and of course, not falling.
Gonzales, who has been skateboarding since the age of seven, has always dreamed of becoming a professional skateboarder. Before he moved to California from Mexico, he "would skateboard at least six hours a day."
To get into skateboarder mode, Gonzales practices on a basketball court on the roof of his apartment gym. Gonzales explains that investment in skateboarding "is kind of complicated because there's muscle memory involved, a huge variety of tricks and muscle memory for each type of trick … so I decided to focus on one trick, which is the manual, and just break the world record. Everyday I would try to go for as long as I could. I'd listen to music, I would hook up my headphones, like the big ones, and just zone out."
Initially, Gonzales, "wasn't actually thinking about breaking the world record at first because the manual was just one of the first tricks [he] learned. [He's] really good at manuals. Even before [he] started training for the record, [he] could go blocks of distance."
While training, Gonzalez shares that he had actually broken the record multiple times in practice. It was just a matter of officially recognizing Gonzales as a record holder.
Gonzales was ready and confident to break the record. However, on the big day, Gonzales had a back injury from putting too much on his legs for standing on the board so much. However, that didn't stop him from following through: "I just put myself into it 100% and didn't let myself fall until I completely collapsed."
Even with the setback, Gonzales' determination further shows how fit he is to be OCSA's Senior Class of 2017 senior superlative pick for the "Most Likely to Break a World Record."
In the future, Gonzales hopes to continue developing his skills as a skateboarder. Gonzales says that he plans on, "going to do the record for distance and [he] might move on to competition skateboarding and practice for street league. Those are the competitions that really make skateboarders famous, like even being a world record holder right now, not a lot of people know the world record holders or anything. So [he's] still kind of incognito"
With the pride of being a winner and being featured in the Guinness World Records, Gonzales has much promise in becoming the next Tony Hawk.
Cutting loose at Footloose.
Photo courtesy of Cheryl Walsh (alt-senior.com)
Let's Hear It for the Cast
Cory McKay
STAFF WRITER
On March 2 through 5, MT freshmen and sophomores "cut loose" in OCSA's production of Footloose. The show followed Ren, a trouble maker played by sophomore Kian Morehead (MT), as he moves from the bustling city life of Chicago to the sluggish town of Bomont. While there, he meets the rebellious Ariel, played by sophomore Cece Balagot (MT), and together they shake up the town. Each number was an excellent example of the amazing talent that constantly graces the Webb Theatre's main stage.
This show featured high energy choreography by Charna Lopez, vocal direction by Christopher Smith, and was directed by Jeff Paul. Though the brilliant staff of OCSA's Musical Theatre program made this opportunity possible, the cast members themselves were the ones who constanty brought the audience to their feet. From spunky cowgirls to "uptight church folk," the characters in this show successfully drew in their audience each night. Though the work required to pull off this musical was intense, all of the cast agreed that it was well worth it.
Sophomore Alyssa Carol (MT), a featured cowgirl and dancer in the show, said her favorite part of the show happened during tech week.
"We all started to see the show come together," said Carol. "I remember there was a moment when we mutually felt the show come to life, which was really cool."
Apart from the hard work and trying to balance daily school work on top of a demanding show schedule, the rehearsal process brought the cast closer and was a valuable learning experience for all who were involved.
Sophomore Joey Sable (MT) said "it was extremely engaging and a truly supportive experience for me, from both the cast and production team. Everyone really pushed each other to achieve something great out of the show and that is why the dynamic worked so well."
Sable even decribed Footloose as "the most fun [he'd] ever had doing a show" because of the countless bonds and memories he made. Freshman Sammy Gayer (MT), who played Urleen, definitely agreed when she spoke to "Evolution" about how positive the experience was for her:
"I almost cried every time I came off of the stage because I was having too much fun, the experience was amazing."
All the stamina that everyone involved brought to the show paid off: the response from the audience was fantastic, and the show was nearly sold out each performance. Gayer added:
"The shows went so well; every night was something new and fun. It was magical."
The cast thanks the audience for their ongoing support. Sable and his peers appreciated "how much the show excited the audience, and the overwheming emotion the audience gave back to the cast."
Students await the performances at OC RYSE.
OC Risen: OCSA Wins Poetry Contest
Dominic Roth
STAFF WRITER
Tensions were running high and excitement was palpable going into the fourth annual interschool poetry reading contest hosted by OCSA: the Orange County Reigonal Youth Slam Event, also known as OC RYSE. The competition features both readings of classical poetry and orginal poems written by the students themselves. One of the teams from OCSA has won every year thus far, including this year, but that's not to say that the competition wasn't stiff, with two teams from Walnut High getting to the final round as opposed to the sole team from OCSA. Despite the competitive aspect of the contest, OC RYSE is one of the rare events that promotes unity between OCSA and other Orange County high schools.
Sage Hill School team member, Miles Wilson described this sense of unity: "[I] love it every year. … [OCSA students] are some of the kindest people I have ever met in my life." In addition to this, OCSA CW senior and competitor E. Isaac Lee, stated, "Everyone there was very easygoing, very happy to talk to one another. We hit it off like that. … [I]t was really interesting hearing about the experience of art students outside of OCSA. … [T]hey have to deal with people with totally different views on art."
CW junior AJ Takata, member of this year's winning team, remarked on how much the competition has grown in the last several years: "... in freshmen year, it had already been going on for a couple years. Apparently during the first year, there was practically no one there… Now it has to split into two days." For many of the competitors, OC RYSE has been something of an artistically transformative artistic experience. Takata went on to explain, "I had never written this kind of poetry before. I just thought it would be fun. … I placed fourth in that first year, and this year I came in first."
Performers at Gala 2017 (Pure Imagination: Expect the Unexpected) rock out during the nale to an original song called "We Are OCSA!"
Photo courtesy of Cheryl Walsh (alt-senior.com)
How P&D Makes OCSA's Most Expensive Show Possible
Dominic Roth
STAFF WRITER
The largest and most glamorous of OCSA's fundraisers, Gala is known for its flashy costumes, high class dancing and music, and even higher class donors. But what often gets ignored are the OCSA students who make it all possible, the Production and Design crew who spend long, unglamorous, and often thankless hours working to make so many OCSA functions work.
Senior and Assistant Technical Editor Zachary George Miller (PD) said on the experience, "Although Gala is a lot of work, the experience gained as well as the overall of completing such an enormous feat in such a little amount of time is very uplifting and humbling." Miller went on to add, "The teachers as well as the performers are always great, everyone giving it everything they've got."
One thing the experience is famous for is its long hours. Junior Esme Burrows (PD) said about the long hours, "When we begin tech, on Friday we get there at 5 a.m. to 8 p.m., and the the next day we get there around 8 a.m. and leave around 2 a.m., and that's not counting the rehearsals we had before." Burrows then went on to describe the benefits of the gig, adding, "It's a lot of hard work. It takes a lot of time out of my day, but it's all worth it for our school."
Another thing that P&D students like about working Gala is the sense of comradery between P&D students as well as the performers. Junior Alvaro Guillen (PD) said, "My favorite thing about Gala, is working with my friends in P&D, there's a great sense of unity." Guillen also acknowledged the experience had many problems, noting, "My least favorite thing about Gala are the hours and complete lack of acknowledgement." However he added that he did not believe the lack of acknowledgement came from his colleagues, explaining, "Montage treats us fine. There's a joke in P&D that we're treated like second class citizens, but really if you treat a P&D kid like garbage, everyone knows that you're a really rude person. Montage treats us nice, frankly it's the teachers, and supervisors that get pretty nasty, but the students know that we're in same boat, they're thankful for us and we're thankful for them."
Gala is one of the most important days in OCSA's school year, at least from a financial perspective. Without the often seven figure total it brings in, it's doubtful the school could operate at the capacity it does, and without the long hours and thankless work that the P&D students put in, none of it would be possible.
Come to ACT FEST!
CAROLINE MERIDETH
STAFF WRITER
In its third year as an official conservatory, Acting is focused on creating a good reputation for itself. Senior Nina Cereno (ACT) decided that OCSA, and the Acting Conservatory specifically, was missing something that makes many prestigious acting programs unique: a monologue competition. Last year, Cereno put on the first Act Fest, and plans to expand the competition, and the prizes, this year due to a grant she secured from Disney and the Youth Service of America. Evolution caught up with her to discuss the founding of Act Fest, what it is, and why people should come.
How did you come up with the idea for Act Fest?
After participating in the August Wilson Monologue Competition, the Music Center's Spotlight Competition, and YoungArts, I thought it was a good idea to have a monologue competition within my own conservatory. At the time I thought of this project, Acting was in its second year as an official conservatory, so we were still trying to establish a reputation for ourselves. I brought the idea of Act Fest to my conservatory director, Mr. Walcutt, and he thought it was a good idea! Act Fest not only was an opportunity to add something different to the conservatory's yearly productions, but it also highlights students within the conservatory. My main motive for this project was to recognize young actors for all the hard work they have done so far in their acting careers. I feel like a lot of people underestimate young actors because they are "too young" to understand emotions or complex stories--which is not the case. We are all human and we all have the capability of understanding and having sympathy for others, and young actors can reflect that in their acting work.
What does the Act Fest weekend typically look like?
Act Fest has a series of rounds: the preliminary, semifinal and the final fest round. Competitors will be get a call back and feedback after the preliminary and semifinal round for the chance to compete in the final fest for the grand prizes which include trophies, prize money, gift baskets, etc. In the competition, there are three different categories to compete in: the High School Category (Contemporary), Middle School Category (Contemporary), and the Shakespeare Category (only for High School Students). In the auditions, we look for their exploration of their emotional depth, their presentation, and so forth. We really want these actors to learn from this experience and become better actors.
Why should people come?
For actors, participating in Act Fest is a chance for them to show their style of acting. Every actor has a different approach to acting, some like Shakespeare, or contemporary, or drama, or comedy. I wanted to give that option for participants to show who they are. For people who are coming to the show, this is an opportunity for them to see something different than a full production. A monologue competition is also different because people get to watch actors just perform a monologue. When you go out, most people will encounter someone singing a song or playing an instrument, well why not see someone just speak words for a change.
Catch Act Fest April 4, 2017, in the Studio Theatre!