The Scoop on Broadway's Dirt
Lily williams
editor-in-chief
For as long as current OCSA students can remember, a huge tract of dirt has sat across Sycamore Street from the Tower. A painted green fence emblazoned with the words "One Broadway Plaza - The Tallest Building in the History of Orange County" surrounds the dirt.
This is decidedly not the tallest building in Orange County. That title currently belongs to 200 Spectrum Center, a 323-foot-tall office building in Irvine. Real estate developer Mike Harrah hopes to change that.
Harrah's referendum to build a 37-story skyscraper in Santa Ana was approved in 2004, then cancelled, then reapproved in 2005. Construction has been stalled for over 10 years, due to the 2008 recession as well as lawsuits against the city of Santa Ana by Harrah's company, Caribou Industries.
For the first time, real ground has been broken at the site. A pit, 25 feet deep, has been excavated to prepare for the skyscraper's foundation.
Foundational structure has been slated to last for a year. Harrah expects the project will be completed within 28 months.
Harrah was the original property owner of some of OCSA's buildings, including the Tower and the Webb Theatre. At its Grand Reopening, Symphony Hall was rededicated as the Michael Harrah Symphony Hall to recognize his help in improving the facilities for OCSA's use.
Dean of Facilities and Supervision Michael Ciecek said the property sits where "the first version of senior parking was actually located."
"This by far is the most work that we've seen done in a long time," said Ciecek. "Eventually, someday, if [construction] happens, that's going to significantly impact foot traffic and vehicle traffic. It'll just be a completely different environment around here...we just have to be aware of it."
"It's a little mini Matterhorn across the street," said AP Language teacher Pamela Smith, who has taught at OCSA since before the building was approved. "It seemed to happen overnight. This is the most serious dirt-moving that they've had as long as I've been here. I imagine something's going to come of it."
"Usually when something is happening across the street, we get some kind of update from admin," Smith continued. "I haven't heard anything."
Colleen Happ, an English teacher, remembers when the property was still a senior parking lot. She agreed this pile of dirt is the biggest she's seen so far.
"Previous times, it's just been bulldozers moving dirt around in little piles here and there. It's never been an excavation," said Happ. "I think this is it."
"I think it will have a very big impact on OCSA," Happ said. "At least we won't be in its shade until the evening."
Mark Mueller, a writer for the Orange County Business Journal who covers the real estate beat, has written multiple stories on Harrah over the years. He said the project has been delayed in the past because of a lack of interested tenants.
"That has always been a sticking point," said Mueller. "[Harrah] just doesn't want to start something without having a baseline of people moving into the building. First he couldn't get financing, then he couldn't get the building permits."
"The best thing to do to get people interested is to start building it," Mueller added. "I think he wants to give the impression to potential tenants or investors or the community that he's not just talking. He's making some concrete steps."
The building has long faced opposition from the surrounding community, often due to safety and traffic concerns. Shortly after the project was first approved in 2004, a citywide referendum blocked the project. Harrah filed four different lawsuits; a ballot measure in 2005 reapproved the building.
Originally, the city's approval plan stipulated the building had to be rented out 50 percent to tenants before construction could begin. Furthermore, those tenants had to be from Fortune 500 companies. Harrah convinced the council to overturn this in 2010.
Happ said the rental requirements "seemed like a pretty insurmountable barrier to groundbreaking," but now that it has been dropped, "I think this is actually happening."
The building will not take up the entire fenced-in plot. The space is planned to include a parking structure to the north of the 37-story circular building. Water features and a plaza garden will surround the building at ground level. The building would house office spaces, an auditorium, and two restaurants, and would be topped off with a helipad.
One Broadway Plaza would be connected to the new streetcar system that is meant to span four-and-a-half miles between Garden Grove and the Santa Ana Train Station by 2020. It would include 13 stops throughout the downtown Santa Ana and Civic Center areas.
In February, President Barack Obama allotted $125 million to the creation of the streetcar system in his budget for the upcoming fiscal year. The streetcar project is expected to cost $289 million in total.
Another of Harrah's properties, the Orange County Register offices on Grand Avenue in Santa Ana, would also be along the streetcar route. The Orange County Register is relocating from that building to Anaheim in March. Harrah is speaking with city officials about developing office towers, hotels, and shops on the property.
But even with all of these plans at Caribou Industries, does this excavation mean the death of the dirt?
In regards to Harrah's proposed 28-month timeline, Ciecek laughed. "That prediction has been said over and over for a long time."
Said Ciecek, "In this day and age, and in education, nothing really surprises me anymore."
At the time of printing, Harrah had not responded to Evolution's request to comment.
Photo courtesy of Olivia Dowdle
Not to Be Ignored, Period: New OCSA club discusses reproductive health
AMELIA NEWETT and CRYSTAL URIBE
FEATURES EDITOR and PHOTO EDITOR
This year, seniors Olivia Dowdle (VA) and Jovi Nieto (IA) introduced OCSA to a club of a whole new realm: periods. XX Initiative is "a club focused on helping the women of our community by donating feminine products, and also educating people on periods and trying to get rid of the social stigma against talking about it openly", said Dowdle, the club's co-president.
XX Initiative hopes to focus on gathering feminine products to deliver to homeless shelters and local women who do not have access to such items. Other hopes for the club include educating people on the pink tax, the tax on feminine products.
Dowdle explained that there tends to be "a social stigma against periods and women feel like they can't talk about it openly and it adds to body shaming. They feel like they need to hide a part of them. [They shouldn't] be ashamed or hide [their] tampons or pads when you go to the bathroom. Who cares? Most females go through it."
The club is not only intended to help women become more accustomed to their bodies, but also welcomes students of all genders.
Nieto hopes people of all genders attend, as "[the club is] definitely not just a women's only thing. That's a huge part of it. We want everyone to feel like they can come in and talk about it and be involved because it's not a feminist issue, it's just a social issue, so everyone should be involved in it."
Olivia expressed, "It's really good to educate yourself on this type of thing because it's more than likely that you are going to be interacting with somebody who has their period or you have it yourself."
The co-presidents hope that students won't be afraid to involve themselves in a topic that affects a large percentage of OCSA's population.
With this, Nieto and Dowdle hope to spark conversation at OCSA regarding menstruation and the "desexualization of the female body", according to Nieto. The club is meant to serve as a catalyst for students to donate feminine hygeine products at club meetings or in the box in the designated club room and to get involved in helping women of the community.
To get involved, sit in on the next club meeting, held every other Wednesday in room T300,
To learn more, email the club presidents at nietojovi@gmail.com, or follow the club's Instagram, @xxinitiative.
Commercial Music: UK Invasion
CECE MELVIN
Staff Writer
The long-awaited Commercial Music show, UK Invasion!, premiered at the Webb Theatre on Thursday, Oct. 13, and eager students, supportive teachers, and proud parents alike were there to witness their first show of the year, and it went great!
Just by watching the CM students perform legendary songs by legendary artists, it's clear that they all have a strong passion for music and a love for being on stage.
Junior Andrew Pham (CM) does admit that there's a lot of pressure playing songs originally written by well-known and celebrated artists, such as The Beatles. Pham said, "The magic that The Beatles did on the song 'Oh! Darling' was a fun challenge, especially since the song itself is very iconic."
Luckily, the stress of covering famous tunes doesn't stop the CM performers from doing what they love, and giving it their all on stage.
When walking through the doors of the Webb Theatre, about three hours before showtime, you can sense several emotions - nervousness, stress, tension - but the feeling of excitement in the atmosphere is definitely the most noticeable.
For students who have only been in the conservatory for a few months, there is a certain pressure due to the fact that it's their first CM show, but many performers agreed that the thrill of being on stage prevailed over the burden of being nervous.
Newcomer to the conservatory, junior Trinity Milosek (CM), revealed that she was slightly nervous before the show, but once it was over, she was very confident in her performance.
"I enjoyed my first concert so much! I found myself wanting to go back and keep doing the show because I loved the adrenaline and the atmosphere," said Milosek. "I feel like I've grown so much, not only as a vocalist but as a performer, and it's only just the beginning."
The supportive community the conservatory has built for itself also helps with nerves, as it allows each student to feel like they can express themselves musically, without feeling judged. Even as an audience member, it's apparent that they all think of each other as a family, where each student can feel a sense of belonging due to their shared passion in music and performance.
Love and companionship radiated off the stage during each set, which only added to the already amazing performances given by each student. Junior Jackie Porter (CM) finds comfort in the fact that everyone in the conservatory is so accepting. Porter said, "I think because we're such a small bunch of people, it's easy to be friends and family with all different age groups." She added, "We all have a connection, even before we meet, because we all share the same love for performing, and not only do we share that love with each other, but with the audience as well."
Overall, UK Invasion! was wonderful. It was clear that each student put their all into every song performed, and it was certaintly a night not easily forgotten. So, the next time Commerical Music has a show, I definitely recommend attending.
Useful and Mandatory: OCSA's College Fair
Lily williams
editor-in-chief
As college application season starts heating up, OCSA held its inaugural College Fair, representing over 110 colleges, universities and arts conservatories. High school students and their parents spoke to admissions representatives at booths and breakout sessions, which covered topics like community college and financial aid.
Classical Voice seniors also had the opportunity to perform audition repetoire in front of a panel representing five voice programs, including the Royal Conservatory of Scotland and USC.
"For the heads of those departments, many of them became very interested in certain individuals [that] would be a very good fit for their programs," said Dr. Maria Lazarova, director of the Classical Voice Conservatory. "The heads of the programs were so impressed with the level of our students that they said if there were some individuals who really wanted to apply, but couldn't fly out [to audition], they would consider using a video recording of their application because they've already heard them live."
"This was super helpful because it gave me a sense of preparation of what real college auditions are going to be like," said senior Sehee Park (CV), who performed at the showcase. "It was more of a trial and error thing so I know what to expect and how to present myself."
Lazarova said the showcase would probably not happen for Classical Voice annually, but hopes similar opportunities are given to students in other conservatories at future college fairs.
All high school students were required to attend the main college fair event, which was held in lieu of that Thursday's conservatory blocks.
Junior Joshua Chang (PD) adds, "It's very useful for people who actually have no idea about colleges. I think it's a smart idea. [It's] very informative. They answered a lot of questions."
"It's helpful for students that don't know what they want in colleges, but for seniors who are applying, it's kind of old news," said senior Abigail McGuire (CW), suggesting it was more helpful for sophomores and juniors.
Senior Alicia Swanson (IM) visited three booths of colleges in which she was interested, but long lines kept her from meeting representatives from more popular colleges. "It's not very well-organized because all of the grades can go to all of the booths and the same time. They're small rooms! It's a fire hazard, but it's more annoying than anything."
High school counselor Ashley Talbert said the college fair received "an amazing response."
"I think the college representatives have all been very excited to meet OCSA students," said Talbert. "I think OCSA students are learning a lot of great information and taking away a lot of great facts about colleges they're researching."
In terms of next year's College Fair, Talbert said she hoped to see "more international programs, as that's kind of a growing trend. We will continue to reach out to those programs."
Visiting college representatives also considered OCSA's first college fair a success.
When asked about the traffic around his table, Andrew Laue, associate director of fine arts admissions at Webster University, said, "It's been incredible! I don't know where all these students have been coming from."
"It's cool seeing sophomores and freshmen. I think it's valuable for them to be able to go and check things out from an early age," said Elliot Downey, assistant director of admissions at Loyola University New Orleans.
Marty Kane, senior admissions officer at Columbia College Chicago, had this message for OCSA students:
"I hope that no matter what you do in your lives, that the creative experiences and the chops that you're honing here...I hope you'll bring into your work wherever you end up going on. So stay creative."
Symphony Hall Reopening
CRYSTAL URIBE
PHOTO EDITOR
Friday, Oct. 7, students from all different conservatories had the opportunity to perform in the new and improved Symphony Hall for its grand reopening and rededication. The building was transformed to look the way it looked in 1922, when it was built.
The reopening began with the ceremony followed by the ribbon cutting, where Dr. Ralph Opacic welcomed guests into the new and rededicated Michael F. Harrah Symphony Hall.
Before the show began, people had the chance to wander around the building to see the new improvements, which included new flooring, new seating, and new paint, among other improvements.
These new improvements would benefit most of the conservatories, especially the students of Production and Design. The PD students will get the opportunity to hone their craft with Symphony Hall's new equipment.
"We now have state-of-the-art sound… [and] lighting in there, so I think it's going to be a favorite space for faculty, staff, and students," said Opacic.
In the next part of the ceremony, guests made their way to their seats to watch performances from students of different conservatories. The show began with a ballroom number, and finished with a perfomance by OCSA's premier performing group, Montage. The cast of Montage gathered on stage and into the audience to perform to the song "Sing" by Pentatonix. Junior Lauren Blunt (CMD), who performed with Montage, said her favorite part was "being a part of the performance and dancing with my friends to celebrate the new Symphony Hall."
During the reopening, Opacic presented Harrah with flowers and a photo of Symphony Hall. During Opacic's speech, he shared with the audience how Harrah played a role in OCSA's Santa Ana campus, selling the school buildings like Symphony Hall and the Tower.
Opacic said, "I shared with him our vision in terms of the facilities we need and he was able to put together the campus as we know it today."
Balls are Soarin', Flying
AVERY NUEVA
STAFF WRITER
This is dodgeball, the epitome of OCSA sports. The first dodgeball tournament of the school year was held after school, Friday Oct. 14 in the DMS Quad. Students, teachers, and parents attended to cheer on the 16 teams competing in this year's event. Junior Alex Padilla (PD) kept the players and audience energized with his lively song choices, while the La Chonita taco truck provided savory snacks to teams and viewers.
The rules of OCSA dodgeball are simple. Teams can include anyone, regardless of grade or conservatory. Teachers and even non-OCSA students can get in on all the fun. Mr. Dion, the coordinator of the event, explains that "matches are three minutes each (unless a team gets eliminated earlier)...the team with the most players on the court wins. If they are tied, there is a sudden death/untimed period until a player gets eliminated."
This semester, teams comprised of students and some teachers vied for their team's name to be engraved on the prized trophy. It came down to the Dodgefathers and the defending champions, Nebraskin Armadillos, in the final game, with the Nebraskin Armadillos emerging victorious once again. The all-junior team includes team captain David Pulido (ACT), Adrian Delcan (FTV), Matthew Morales (IM), Chris Villarino (IM), and three non-OCSA students.
One of the most memorable moments in spectating senior Maddie Moore's (ACT) mind is when the Baller Boyz, a team made up of all middle school boys, played their first game. Moore recalled the Baller Boyz were met with cheers of encouragement: "The crowd rallied around them... and they were so fun to watch!"
Junior Taylor Scott (IA), a player on team Snoop Doggy Dodge, thought the event would be a fun way to hang out with friends. "I thought we did very well! We had a goal of winning at least one game during the tournament, and we ended up winning two," says Scott. When asked whether Scott and her team would compete in the spring, she replied, "Definitely! We are super excited to play again in the spring!"
Even though most OCSA students laugh at the mention of anything sports related, dodgeball is a unique opportunity for students to step outside of their comfort zone, and provides amusing Friday afternoon entertainment for all.
Flow It, Show It, Long As You Can Grow It
AMELIA NEWETT
FEATURES EDITOR
A light breeze blew through the long locks of eight students as they anxiously waited on the Symphony Hall steps to cut eight or more inches of their hair in OCSA's biannual Hair Drive.
During the Hair Drive, professional hairdressers visited campus and gave free haircuts to participants who signed up for the event. Their locks will be donated to Pantene Beautiful Lengths, an organization that uses hair donations to make wigs for women battling cancer.
One of the hairdressers was Karen Chacon of Shear Dynamics in Fountain Valley. She said that the process was "fun and enjoyable" and only took "probably about 20 minutes" to cut and style each participant's hair.
While eight people were signed up to participate, there were only four hairdressers working the event, leaving four participants, including eighth grader Mariana Vargas (CCD), to keenly wait on the side.
"I'm a bit nervous...I've never actually cut my hair more than three inches," Vargas said as she anticipated her haircut.
The Hair Drive is an amazing event that connects people with their community and provides an opportunity to impact others in a life-changing way. To many, cancer seems like a far-off threat or worry, but the truth is that many people personally know someone suffering from the disease.
Sophomore Austin Crawford (CAH) left the hair-cutting table giddy with excitement and a huge smile on his face. He didn't regret chopping off his hair because he was supporting people like his "neighbor [who] is getting chemo."
Hair Drive is a part of Breast Cancer Awareness Month and is meant to raise awareness for people fighting cancer. Pantene Beautiful Lengths is always accepting donations, so if anyone was unable to participate in the event, they can either contribute by sending a hair donation to the organization's office or by making a monetary contribution online.
To learn more, visit gotobeautifullengths.com.
A Night of Color Broadens OCSA's Spectrum
MAYA MAHARAj
NEWS EDITOR
The way OCSA students ended the Homecoming dance - smiling and sticky with spilled mango sodas and sweat from excessive Bhangra dancing - was a stark contrast to their uncertain reactions earlier that month when they received the dance's theme: "A Night of Color."
Skepticism started after the Homecoming ad swept through screens on OCSA's Art Attack. The ads were a compilation of different clips from Bollywood films, with accompanying Bollywood music.
"Oh great...it's an Indian theme," said one junior. The part of this statement that threw me was the not only their disappointment toward this introduction to Indian culture but their failure to differentiate Bollywood from India as a whole.
"Some students had concerns about the theme because they thought that Bollywood and Indian culture were very closely interrelated," said senior Harvey Sutton (ACT). This appears to be the root of why there was such a repulsion to the theme, as seen on social media.
Multiple OCSA students posted about how culturally appropiating the theme was. Some students, both white and of color, felt it was wrong that the theme was chosen by a predominantly white Leadership dance committee. Some claimed that they were boycotting it for its insensitivity.
When asked if she thought that OCSA students who were not of Indian heritage were aware of the difference between Bollywood and modern Indian culture, OCSA Leadership and senior Kelsey Bray (MT) said, "I don't think so. The other day I had a couple of people come up to me and say, 'I'm boycotting the dance,' and I was like, you do realize that Bollywood is its own film industry?"
Bray claims that that one of the main reasons that Leadership scouted out the Yost Theatre as the venue was because it perfectly corresponded with Bollywood's film industry aspect.
Ironically, the location may have been a significant factor in OCSA students being offended. The reason there weren't any problems when we had the "Tokyo Drift," "A Night in Italy," or "Dia de los Muertos" themes seemed to boil down to specificity and familiarity. The "Tokyo Drift" theme was closely tied to the movie "Fast and Furious," and was held at K1 Speed. The "Dia de Los Muertos" dance was held at Tortilla Joe's, a Mexican restaurant. The "A Night in Italy" dance was held at a vintage car museum where the students danced surrounded by Italian cars. All of these themes assimilated into their venues with ease, whereas the "A Night of Color" dance was harder for people to associate with a theatre.
As Californians, OCSA students have had more exposure to Japanese, Mexican, and Italian culture. As for Indian culture, the extent of most OCSA students' exposure does not extend further than watching films like "Mangal Pandey" and "Jodhaa Akbar," in their AP World History classes. Bollywood is only a fraction of what Indian culture is, but it is still a very wide scope to condense into a high school dance theme.
Indian OCSA student and senior Sanika Gotmare (CW) says Bollywood "is one of the many ways to experience Indian culture and arts but is not the only thing that India comprises of. It's not all about the fancy clothes, colorful dance numbers, and pretty actresses like Aishwarya Rai. There is so much about Bollywood, and India in general, that people would be surprised to know."
With that said, it makes sense that there was some nervousness around the theme. It is not as specific of a concept as foreign cars or a holiday, and while it may be heavily enhanced, it is still very representative of modern Indian culture, giving justice to them and not offending Indian people.
"Bollywood is sometimes a reflection of our society from the youth to the elderly, our dreams, our traditions, our values, and our history… so Bollywood has always stayed current and developed into portraying modern India," said Gotmare.
When asked what her first thoughts upon finding out about the theme were, Gotmare said, "I was like, 'OMG a Bollywood themed dance! Finally! Call up L.A. Rickshaw and the dhol player because it's time to bust out the bhangra and bangles!' It's really every Desi girl's dream to have a school dance like this." Desi is the informal term coined by Indians to describe a person of Indian descent living or born in another country than India.
When asked how she felt about the theme being selected by a predominantly white student body, she said, "I feel happy that OCSA is recognizing Indian culture because there aren't that many Indians at our school, so it is nice to feel represented with this fun dance theme." She thinks something non-Indian OCSA students should know is that "Culture has been spreading for centuries all over the world and it is inevitable, no one steals it. Americans practice yoga, wear bindis, and watch Bollywood movies. Indians in India drink Starbucks pumpkin spice lattes, watch Hollywood movies, and shop at American clothing stores.
The people who were opposing the dance were non-Indian students, yet me and none of the other Indians at OCSA were upset about it. I thought if the Indian students aren't offended at all, then why should other people be? So from what I have learned and observed, I didn't find this dance offensive.
*NSYNC at OCSA
NINA CERENo
MANAGING EDITOR
Who'd ever imagine we'd see multiple people dressed up as Sia and Alexander Hamilton at the Webb Theatre to have a singing brawl in Musical Theater's Annual Lip Sync Battle? On Oct. 1, students lip synced to their favorite songs, competing for the grand prize of a $125 shopping spree and the Golden Microphone trophy.
Acts were composed of soloists and groups from different conservatories, each vying for the hearts of the audience and judges, with striking performances combining lip syncing and dance.
Winners of this year's Lip Sync Battle, juniors Natalie Pendergraft (MT) and Seena Poormehr (MT), put a lot of effort in their "High School Musical" parody. The performance included an entertaining rendition of "Bop to the Top."
Pendergraft said, "We found an empty dance room after school in the DMS and used the room and speaker system to learn it. The hard part was the partner dancing, especially a specific turn! It took us forever. I also ordered a dress off Amazon on Wednesday and it was perfect. Seena even got a shirt matching in color. On top of that, we decorated a ladder with gold tinsel and silver duct tape."
Other highlights of the show included groups such as The Queen Bees and third place winners The Heartbreakers, who perfomed a series of Beyonce medleys proving that no one can have too much Yonce love. The Marauders and The Hamiltons showed that OCSA will never get tired of "Hamilton: An American Musical", and the Shyla Surprises made everyone realize that they need to pay more attention to Shia LaBeouf because he's "lurking in the shadows," ready to kill.
Lip Sync Battle also came with another roll of surprises such as the "Wildcard Performance." A special twist to the show, audience members' names were chosen from a bag to wing a performance and lip sync a random song during intermission and while the judges deliberated after the second act.
One of the most entertaining wildcard picks was group "Ice Cubed," with seniors Jasmin Jimenez (MT) and Carly Perez (MT). They were a group who got the chance to perform for the wildcard round, on top performing for the original lineup, with junior Barret Figueroa (MT) who joined them in a comical improv number with bold dance moves.
"While Ice Cubed didn't win a prize for our performance...for the wildcard performance...we choose to perform the song 'Wrecking Ball' by Miley Cyrus," said Jimenez. "And we won a $10 Starbucks gift card thanks to the audience vote and Barrett Figueroa's death drop." Lip Sync Battle was definitely a different experience than productions Musical Theater usually puts on. The event was more casual than the typical expected ettiquete. The show was engaging and was a great way to further showcase OCSA students' talent onstage, whether sound comes out of their mouth or not.
Teacher of the Month: Adding Spice to School Life
HANNAH BADGER
STAFF WRITER
A group of seniors trudge up the stairs, eyelids drooping, legs dragging, as they climb to the seventh floor, gasping for breath. College applications and auditions have aggravated their senioritis. But hark! At the end of the hall, in room 705, awaits calming classical music, freshly-brewed tea and a teacher who greets her students with a smile.
Deidre Spicer has been a teacher for 22 years, 17 of which have been at OCSA. She teaches many English classes at this school, including AP Literature and Media/Modern Plays. Recently, Evolution sat down with Spicer to ask about her life as an OCSA English educator.
What made you want to become a teacher?
I wanted to become

a teacher to make a difference, as cliche as that sounds. Really, [I wanted] to be in the service of others and help high school students go on a discovery process of who they are ... [and how to] understand the world around them through literature.
What has consistently been your favorite units in the classes you teach? Across the years, which ones do you like the most?
I like them all for different reasons. That's a tough question. I love doing William Faulkner because I know it so well. I [also] love modern plays and exploring all the different aspects that playwrights bring to the forefront, especially modernism, and

the conflict that is so es

sential to stage writing and to stage performances. Existentialism is fun. I know that sounds like an oxymoron (laughs), but it is, be- cause so many kids are interested in [learning about] the ways that [existentialism] makes them think differently [and] about things that they have never really thought about before. And it's always good

to inspire a different perspective, looking at everything from different angles.
When did you start providing tea for your students and why?
Well, in my perfect world, (laughs) we read literature and drink tea. That's what I do at home. That's what I do here. So I wanted to share that with everybody and invite them into my perfect world.
What is your favorite book and favorite literary character? Can you even answer that?
Well, my stock answer to that question is whatever I'm reading at the time. However, I am going to–(sigh)

that's such a difficult

question. I can say that, before I got into a real serious relationship, I

had kind of fictional

boyfriends (laughs).
We all do.
Yeah. Quentin Compson was one of them from Faulkner's "The Sound and the Fury. So we will be reading that next semester. Great novel, "The Sound and the Fury", but I don't

even think it's my favorite Faulkner. And then there's plays and novels and poems ... I can almost do better with authors.
Why do you start each class with the Tibetan singing bowl, a bow and a "good morning" in a British accent?
The Tibetan singing bowl, the sound is meant to get people to relax and focus. So I like to start the class with that calming sound [for] fostering the relaxation yet intellectual focus. When I studied Shakespeare in En- gland, every morning, I would walk down the halls, and the people would say, "Morning, Deidre!" And it was very lyrical and made my heart sing, so I just like to replicate that. And maybe that little good morning routine can help the students' hearts sing, too.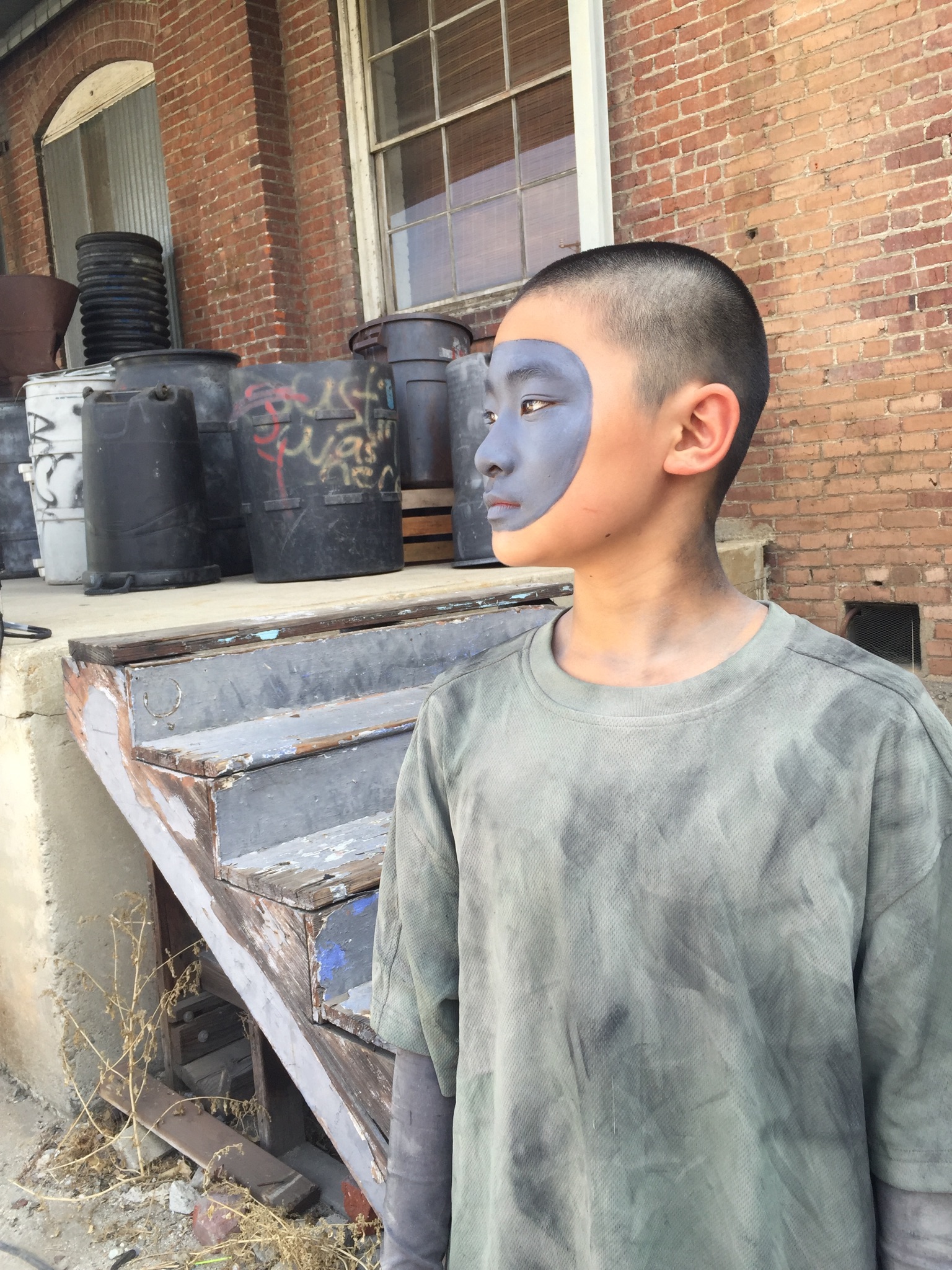 Photo courtesy of Will Okajuma
Will Okajima is "The Greatest"
Cori mckay and CAROLINE MEREDITH
STAFF WRITERS
This summer, OCSA students tanned at the beach, spent days at Disneyland, and worked tirelessly on their summer assignments. But for one OCSA freshman, Will Okajima (CMD), the opportunity of a lifetime arrived over his summer break when he was chosen to perform in the music video for pop-star Sia'snew single, "The Greatest."
Okajima heard about the casting notice from his agent, and after a day of auditioning, he was cast in the music video. It was a standard audition, consisting of three rounds of dance combos with cuts made after each round, culminating in a final videotaped audition. After Will got the job, he moved quickly into two days of rehearsal and then two days of shooting on set.
Okajima, however, was not the only member of the OCSA family who was cast in this project. Junior Lo Matsuno (CMD), freshman Sophia Frilot (CMD), and alum Lex Ishimoto (CMD) were also featured as dancers in the video. Okajima was grateful to have fellow OCSA commercial dancers on set, mentioning that,"There were only about 30 people [in the video], so we all had lunch together and I got to see them. It was fun because I wasn't by myself, I got to see everyone, and I met new people, so it was nice."
This video is unique due to Sia's heavy involvement in every aspect of the project, from handpicking the cast to choosing costume and makeup design. "She would pick us out individually and ask us what we wanted for our costume, and she would do some of our makeup so we got to interact with her. It was really cool, and she was awesome," said Okajima.
Following form with Sia's other music videos, "The Greatest" has a deeper message than most videos of the pop genre. In this case, the video interprets the Pulse nightclub massacre of 49 people earlier this year. The video starts with "Dance Moms" star Maddie Ziegler freeing dozens of children from cages, moves to show all of the children dancing in a set resembling a nightclub, and ends with the entire cast collapsing to the ground while the music plays on. According to Okajima, after the shoot wrapped, the cast and crew joined to watch the finished product together, and then Sia explained the powerful message to everyone involved.
While this experience was exciting, it required hard work and determination. "It was really hard because it was two days of shooting and nine hours a day, and where we were shooting was not a very nice part of LA, and it was 105 degrees," recalled Okajima. "Sometimes, we shot the same scene 30 times just to get different camera angles. It was really hard but you can't complain because you're getting paid for it."
However, Okajima felt very prepared for this job due to the rigorous dance training he's received at OCSA. "Throughout all the work and especially the audition, we had to pick up the choreography really quickly, and OCSA prepared me for all of that."
Being a part of this project was hugely successful for Okajima, but there was still one question we were dying to know the answer to: Did he get to see Sia's face, which is notoriously covered by her famous wigs?
Okajima laughed as if he's heard this question a million times. "I actually did see her face, she was older but still very pretty."
Jazzin' It Up With Wynton Marsalis
Ryan porter
Staff Writer
From the New Orleans Phillharmonic, to the Lincoln Center, to Julliard, to OCSA's Webb Theater. On Friday Oct. 7th, world-renowned musician, bandleader, composer, and educator, Wynton Marsalis, led a master class for a sold-out body of OCSA students.
Rocking their slickest selection of attire, as well as their instruments, OCSA Jazz players joined Marsalis--who is credited as being one of the most prominent jazz and classical musicians alive--on stage. Having prepared music prior to the event, they took turns playing tunes before Marsalis, who deconstructed and critiqued their pieces in front of the crowd, adding how they could improve. "Ever since I was seven years old, I really loved listening to jazz, especially Wynton Marsalis," said Senior Max Zamora (PD), who watched from the crowd.
Marsalis explained that a big band resembles a government, describing how different instruments and players must work together in their individuals roles for a harmonious result. Senior Kirk Palsma (IM), who played double bass on stage, added that Marsalis "...was a sweet man. Humble. He touched me a lot. He ran his hand all over my arm and my back a lot. On multiple occasions. It could have been construed as a little creepy, but honestly it was just soothing." Palsma added that he was grateful for an experience that "...gave him a lot to take back to the practice room."
It seems the master class ressembled Marsalis' music: touching, soothing, and inspiring.